Once, long ago, with some friends, I brainstormed a cartoon that would be a sitcom starring parodies of common videogame tropes. I've tinkered with it for a while, designing and redesigning characters, even sculpting them in 3D...
[gallery size="medium" type="rectangular" ids="205,206"]
...until I had the bright idea of prototyping my stories with a sprite comic. Even better. I would prototype my stories using graphics that I could turn around and re-use to make fun little video games.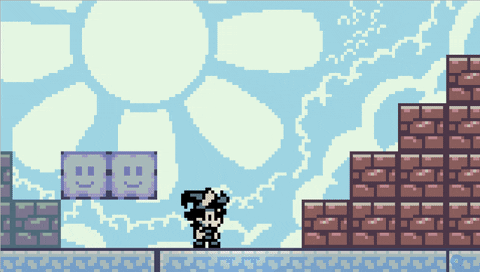 It's an idea that isn't wholly gone from this comic. Will I one day be demoing a Hat Trick video game? Or making Jump the Shark more than just a joke at a gaming icon's expense? Support the comic because that is an awesome future to move towards!
Note: Bunny Trail Junction has a rather special copyright because I am trying, in my own small way, to find a healthier reality for intellectual property. However, Candy the Witch, displayed in the animation above, has been used in collaboration projects with normal copyright protection, and so, rather than sort out the mess of whether I can include her in the broader Sharealike license, I'm going to mark her as an exception. All Rights remain Reserved with this one until I otherwise say.